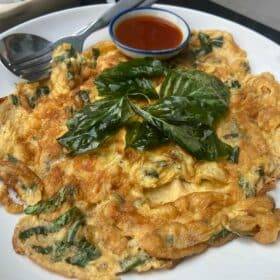 Dijon Egg and Veggie Scramble
Veggie scramble is a great option for a healthy breakfast. But, if you need some more flavour in the mornings, add a spoonful of dijon mustard for a tasty treat. The sharp and tangy dijon mustard pairs beautifully with soft vegetables and fluffy eggs. You might not know it, but mustard can bring some great benefits for a healthy body. For example, just a small amount of mustard regularly can reduce inflammation and help regulate blood sugar levels. With the low glycemic index of many ingredients in this recipe, the Dr Spages veggie scramble is perfect for diabetics. Mustard oil has also been proven to help nerves in the spine function properly and reduce neuropathy pain. The best part about this veggie scramble recipe is you can substitute with whatever vegetables you have in the kitchen. Enjoy!
Ingredients
1

eggs

2

egg whites

1/2

red bell pepper

1/2

zucchini

1

large green onion

1/2

tsp

salt

1/2

tsp

each spice

(use a variety/all or a few: chili powder, coriander, cumin, paprika, turmeric, pepper, cayenne, even curry)

2

tbsp

Dijon mustard

1

cup

spinach

sprinkle

of raw goat cheese

(optional but delicious)
Instructions
In a large skillet, heat 1 tbsp olive oil or coconut oil.

Add bell pepper and zucchini, stirring frequently. Cook on medium-high heat until zucchini becomes soft and slightly translucent, about 3-5 minutes.

Crack the eggs and add in the whole egg and egg whites to the zucchini and pepper mixture. Scramble, as desired.

While the eggs are still cooking, add green onion, salt, and spices.

Continue to cook the egg until they become fluffy and solid.

Remove from heat and toss with Dijon mustard, spinach, and goat cheese.