Adrenal Fatigue and How to Prevent It!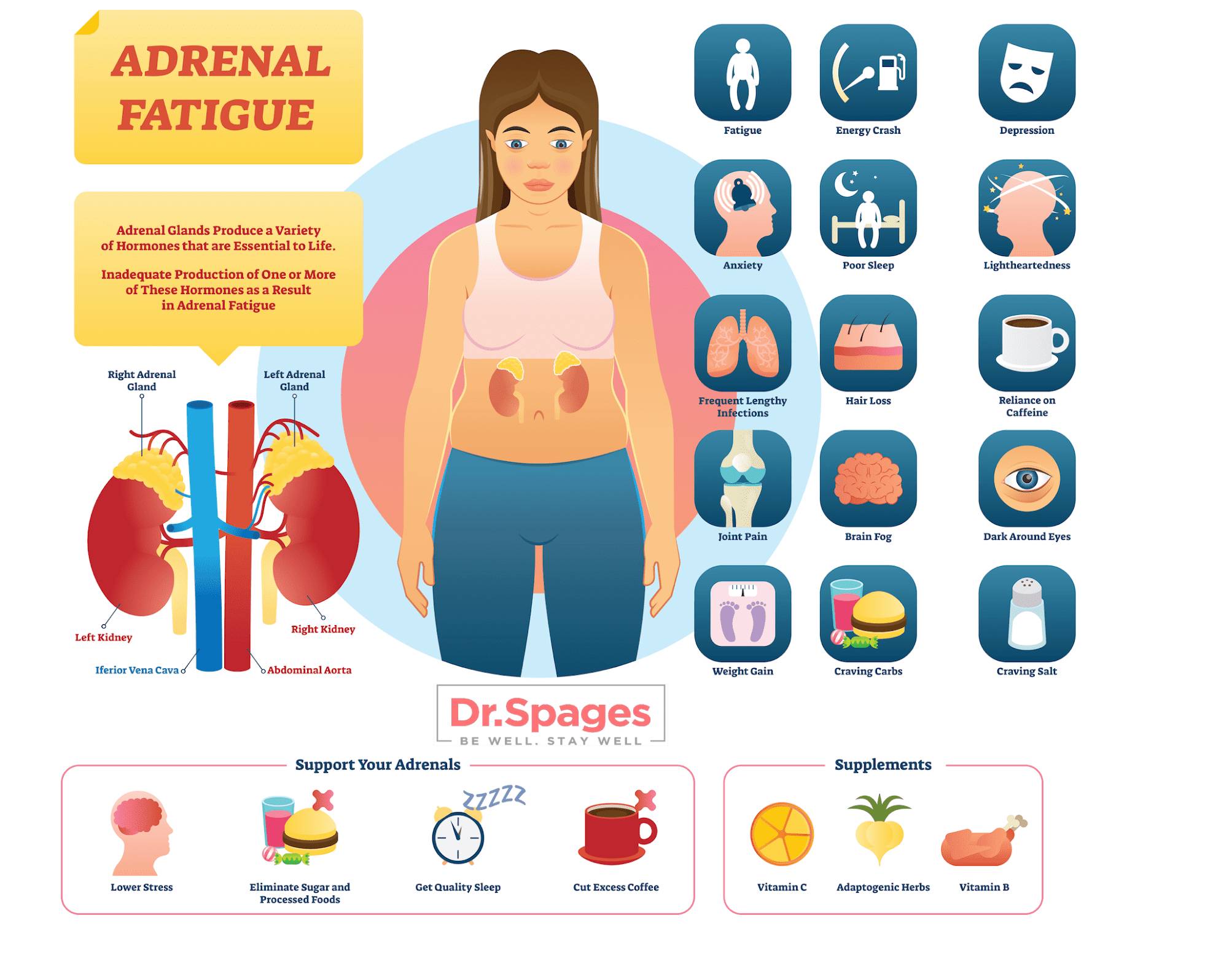 Feeling tired all the time? Gaining excess body weight? Worried that it could be adrenal fatigue? Adrenal fatigue not only causes hormonal deficiency but also deficiency of essential vitamins and minerals that the body needs in order to function properly.
Signs of Adrenal Fatigue
Below given are some symptoms that show that you are suffering from adrenal fatigue:
Feeling tired without any reason
Frequent mood swings
Difficulty in dealing with stress
Craving for sweet as well as salty snacks
After exercising, you feel burned out instead of relaxed and revitalized
Frequent changes in body temperature like hot flushes
You can see that all the above-mentioned symptoms are quite general and because of this it becomes difficult to determine whether you are suffering from adrenal fatigue or not.
Poor diet, improper sleep, mold exposure, emotional trauma are some causes of it.
Strategies to combat adrenal fatigue
Consume healthy and nutritious food and check the intake of your caffeine.
Do regular workout.
Improve your sleep cycles
Get adrenal supportive supplements
What are the Supplements for the Treatment of Adrenal Fatigue?
There are many people who prefer supplements for treating adrenal fatigue but be cautious of unproven treatments as they can harm your wellbeing. By taking the correct supplement you will be able to see a big difference. Below given are some of the best supplements for adrenal fatigue.
Licorice Root
It helps in strengthening the levels of cortisol and one should take this in case of low levels of cortisol as well as hypotension. It can address complications that happen because of adrenal fatigue such as weak immune system, hypoglycemia, and inflammation and so on.
People suffering from liver and kidney issue must avoid this. In some cases, it can increase the blood pressure too; so stop taking it immediately if this happens with you.
Ashwagandha
If you regularly suffer from chronic stress, then Ashwagandha will help you in producing stress-relieving hormones. It can even stop producing these stress hormones if they are not required in your body. Moreover, it can help in the production of cortisol too when required. The best thing about this herb is that it has no or very less side effects associated with it. The herb can:
Enhance your life quality
Decrease depression as well as anxiety symptoms
Magnesium
This is another supplement that you can take in order to produce adrenal hormones. In addition to this, magnesium can enhance your sleep cycles and help you enjoy a sound sleep, ease heart palpitations, and much more.
Probiotics
Adrenal fatigue results in sluggish digestion; so probiotics are helpful in improving digestive function. This, as a result, will boost the levels of your energy as well as the immune system thus minimizing the odds of sickness that can impact adrenal glands later on.
Maca Root
If you are suffering from adrenal fatigue or have lower hormones levels then maca is good to go for.
Vitamin C
Vitamin C can treat adrenal fatigue; moreover, it can also boost your immune system.
Melatonin
It can reduce the levels of cortisol and also enhance your sleep cycles. Even, if you have no sleeping issues then too melatonin can help with cortisol.
Phosphatidylserine
According to research, it has been found that it's effective for people having high cortisol levels. It can also:
Improve sleep cycles
Perfect for people suffering from anxiety as well as depression
Adrenal balance (stress support supplement)
This supplement can help with the problem of adrenal fatigue. It's perfect for fatigue, stress, adrenal cortex support.
Diet and exercise
What we eat actually plays an important role in keeping the body fit and healthy. Foods that are high in nutrients like vitamin C and B, magnesium is perfect to treat adrenal fatigue.
Below given are some tips that will help you in achieving healthy adrenals:
Lower the intake of sugar as well as caffeine
Keep your body hydrated
Eat at frequent intervals as it will keep the hormones in balance
Address and find ways to reduce levels of stress
Take out time for yourself
Seek counsel for the traumatic experience
Give your body a rest when you feel too tired
What to avoid if you really want to heal adrenal fatigue?
If you are suffering from adrenal fatigue then it is better to go for yoga or walking rather than doing cardio workouts.
Eat healthy breakfast in the morning and remember not to consume coffee empty stomach. If possible, avoid coffee.
Wrap Up
If you face difficulty in figuring out the reason for adrenal fatigue then it's better to discuss it with a proficient healthcare provider. Since, he can help you in a better way by examining the root cause of the problem. You can also consume organic vitamin d3 5000 iu as it can improve the immune system.